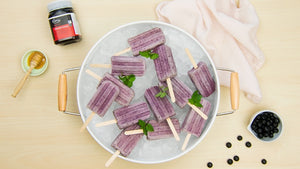 How To Sweeten Up Veggies With Manuka Honey
Unless you're an incredibly lucky parent, you have probably, at some point, struggled to get your kids to eat all their veggies. What is it about broccoli, carrots, kale or (insert your trouble-veggie of choice here) that kids just can't stand?
These poor veggies deserve a chance, especially when you consider the naturally present vitamins and minerals in each serving. There are heaps of things you can try to get more veggies into those growing tummies – from growing your own in the garden to getting the kids involved in meal prep – but our favourite has to do with a certain sweetener straight from nature itself.
That's right, Manuka honey is the perfect secret weapon to brighten up a veggie dish.
Eating Manuka Honey On Veggies
Kids (and adults!) may turn up their noses at steamed veggies like carrot and Brussels sprouts, but when you dress them up with Manuka honey, they may just become a family favourite.



Try drizzling chopped Brussels sprouts with oil, balsamic vinegar, Manuka honey, salt and pepper and baking them in the oven. Or try the same dressing over a vegetable medley of carrots, parsnips, potatoes, onions and even broccoli, or any other good roasting veggies you've got in the fridge. This honey-balsamic dressing, combined with the crispy roasted texture, lifts the flavour of vegetables, making them irresistible.
Manuka honey also makes a phenomenal glaze for carrots, especially when fried in a pan with butter, salt and pepper.
Can You Find The Veggie?

Do your kids turn up their noses at the very sight of veggies? Mix about with the addition of Manuka honey , you can create some snacktime masterpieces that won't give off even the slightest hint of "veggie". Think: ice blocks with hidden kale, cookies made with carrot, and even chocolate cake featuring cauliflower! Manuka honey sweetens these recipes the natural way and, alongside the other ingredients, disguises the vegetables.
Ready to start? Check out the recipes below to learn how to hide veggies in your kids' new favourite snacks. Before you start baking, make sure to follow the three "golden rules" of baking with honey.
Carrot Coconut Cookies
A perfect lunchbox addition or after school treat, these biscuits are made with wholesome ingredients like wholemeal flour, carrot and Manuka honey.Click here for the full recipe!






Cauliflower Chocolate Cake
A perfect dessert or indulgent afternoon snack, these single-serve cakes are ideal when served with vanilla or coconut ice cream. The recipe can also be adjusted to form a super-moist birthday cake. Click here for the full recipe!






Kale Pops
Cool, creamy – and made with kale! Unsuspecting kiddos will be drawn to the sweet berry flavours of these refreshing ice blocks. Click here for the full recipe!






Wondering which is the best Manuka honey for your recipe? All of our honeys can be used for cooking and baking – from UMF 5+ to UMF 20+. Buy Manuka honey here.