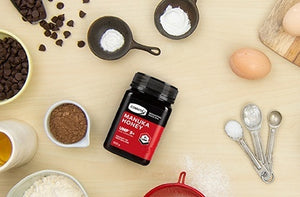 3 Tips For Baking With Manuka Honey
Manuka honey is a natural sweetener that can be used in a range of cooking and baking. Plus, because it's sweeter than sugar, you can use less – about ½ cup of honey per one cup sugar.
However, because Manuka honey does have a different chemical makeup to sugar, it's important to remember these three"golden rules" of baking with honey to ensure your recipes are a success:
1. Turn The Oven Temperature Down
Honey caramelises (and burns!) faster than sugar, so turn down your oven temperature by about 10 degrees when baking with honey. Keep a watchful eye toward the end of the bake time, too.
2. Lighten Up The Liquids
Unlike sugar, honey adds to the overall liquid content of your recipe, so you'll want to reduce other liquids in the recipe. For every one cup of honey you're using, reduce the liquids elsewhere (milk, water, etc) by ¼ cup.
3. Make Sure There's Some Lift
Check that your recipe calls for baking soda – this will help the baking to rise properly, as honey's acidity can sometimes cause it to go flat. If your recipe doesn't call for baking soda already, add ¼ teaspoon for each cup of honey used.
Ready to get started? You can buy Manuka honey online here.
More recipes you might like: