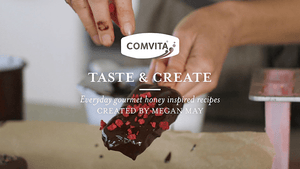 Choc-Dipped Berry Ice Cream Blocks
There's nothing like a cool, creamy ice block to counter a sweltering summer's day. But skip the trip to the dairy – this recipe will give you the refreshment and indulgence you're after with a lot less guilt.
Made with soaked cashews and coconut milk, the ice cream has a perfectly smooth, creamy texture that is only improved by the addition of bright strawberries and raspberries. And there's no doubt the dark crunchy coating, made from cacao, will satisfy that chocolate craving. Our light and clean-tasting Clover Honey lends the perfect amount of sweetness.
INGREDIENTS
Dipping Chocolate:
¼ cup cacao butter
½ cup cold-pressed coconut oil
3 tablespoons Comvita Clover Honey
¾ cup cacao powder
Pinch of sea salt
½ teaspoon vanilla extract
Ice Cream:
1 cup cashews, soaked for 2–4 hours
2 cups fresh or frozen strawberries (defrosted)
½ cup raspberries fresh or frozen (defrosted)
¼ cup Comvita Clover Honey
½ teaspoon vanilla extract
2 tablespoons lemon juice
½ cup coconut milk
¼ cup melted cold-pressed coconut oil
Additional ½ cup of raspberries, fresh or frozen
METHOD
Dipping Chocolate:
Place cacao butter and coconut oil in a heatproof bowl set over another bowl or a saucepan containing very hot water, and allow to melt. Be careful not to let any water get into the top bowl.
Once melted, add honey and mix together gently, keeping the bowl over the hot water, then add the cacao powder, salt and vanilla and mix again. Keep stirring gently until the mixture is well combined (for at least 10 minutes). The temperature should stay at around 41°C for a smooth, consistent chocolate that won't separate. You may need to add more hot water to your water bowl if it cools down.
When the chocolate is smooth, place some ice and water in a separate bowl large enough to hold the chocolate bowl. Transfer the chocolate bowl to the ice/water bowl, and stir continuously for 1–2 minutes to reduce it to around body temperature. You can test this by touching a little chocolate to your lower lip area – the chocolate should feel neither warm nor cold.
Your chocolate is now ready to be layered on cakes or used to dip and drizzle things with.
Ice Cream:
Place all of the ice cream ingredients, except the coconut oil, and additional raspberries, in a high-speed blender, and blend until smooth.
With the blender still running, gently pour in the coconut oil until fully incorporated. Add the additional raspberries to the mixture once blended and gently fold in with a spoon.
Pour the mixture into the ice-block mould. Insert wooden sticks into each mould and freeze until firm. This should take around 8 hours, depending on your freezer and the size of your moulds.
To remove, hold the base of the mould (where the stick is inserted) briefly under running hot water and gently remove the ice creams. If you're dipping your ice creams in some delicious chocolate, make sure you have the chocolate ready to go – see Dipping Chocolate recipe above.
Line a plate or tray with baking paper. Remove the ice creams from the moulds one at a time, hold them over a clean bowl and pour the dipping chocolate over, while rotating the ice cream, allowing the excess chocolate to quickly drop off.
Place the finished ice cream on the plate and place in the freezer. Repeat with the remaining ice creams.
Store in a well-sealed container in the freezer, lined with baking paper.
Download PDF of Choc-Dipped Berry Ice Cream Blocks Recipe >



Want more of Megan's masterpieces? You'll love these recipes:
Fig & Almond Breakfast Bars
Golden Mango Cake