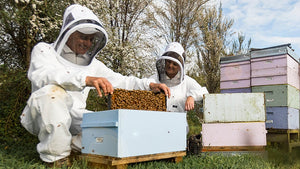 Alan And Claude: The Comvita Heritage Story
Comvita was established in 1974. But our roots actually stretch back even further, back to 1916 on a small farmlet in the South Island of New Zealand.
Before there were jet aircrafts and motorcars in New Zealand, a young Claude Stratford – just 6 years old – was keeping bees.
By the time he was 12 or 13, he was travelling across the Cook Strait and selling comb honey off the back of his bike in Wellington.
It was the start of a long and varied career creating natural health products, one that eventually led Claude to cross paths with Alan Bougen in the early 1970s. Together, they set out on their mission – to create top quality, healthy products that are as close to their natural state as possible, to benefit people's' lives. It's a mission that still drives Comvita today.
When a hippie met a permaculturist
Living off the coast of New Zealand on Great Barrier Island in the early '70s, a young Alan Bougen was living a "subsistence lifestyle" as part of the back to the land movement that was happening all over the Western world.
"I was learning to produce healthy foods, and the craft of beekeeping was one thing that I really fell in love with," Alan says. "I got so fascinated with the whole story of bees, pollination and honey production."
Alan sought out Claude, who had already established several natural product-related businesses over his career. In the 1950s, he was creating ointments and creams using comfrey, a plant rich in potassium and calcium that is used for various medicinal purposes. Claude's comfrey products had been used in Japan after World War II to treat the intense burns and scars of victims of the Hiroshima bombings. After that, he reinvented himself as a beekeeper in the far north of New Zealand, before selling up and moving to Paengaroa.
"I thought, 'this guy must know something about bees, so I'll contact him and see if he can help me in my journey to become a better beekeeper,'" he says.
Help him he did. The two quickly hit it off and became business partners.
"There was a very interesting synergy between us when we met," Alan recalls. "We had a very strong connection, that was unusual, really, because Claude was 40 years older than me. And yet, strangely, he embodied the same kind of values and he had the same philosophical outlook as I did."
"We seemed to have a similar understanding of and appreciation for nature, and we shared the same vision to create a business that would provide the opportunity to help people through our products."
Soon, the pair had developed a suite of products including honey, pollen, propolis, cough syrups, honey based skin creams and more – all from Claude's tiny home basement in Paengaroa, New Zealand. "We had a mini honey extraction plant set up in the basement – along with lots of other things," Alan recalls. "It was a very busy little place. We had a hand operated extractor which took 4 frames and we used a steam-generated hot knife to cut the cappings off, before loading the frames into the extractor, and turning the handle to spin the honey out. It was all very hands-on in those days."
Beekeeping in the early days
After working away on their concoctions in the mornings, Alan and Claude would pack up their smokers and honey boxes onto the back of the truck, and spend the afternoons beekeeping in the remote native forest areas around them often not returning home until well after sunset
"It was a much more folksy kind of a world in those days, for me," Alan says. "I was an idealistic 25-year-old and Claude was a romantic 65-year-old, who knew a lot about bees and beekeeping."
Among many things, Claude taught Alan "the sensitivity of nature," he says.
"He was a very good beekeeper, very gentle. He respected nature greatly and he also appreciated the quality of products that came through bees to us. He also knew how to treat those products to get the best out of them."
Soon Comvita – so named for the Latin "com vita" or, "with life and vitality", with a nod to Claude's earlier work with comfrey – was servicing a small, "very very fledgling" health food market in New Zealand. Comvita was known for the purity and quality of its products, and its ethics.
Alan says he has always been proud to be able to commit his life's work to not only bettering people's lives through healthy products, but leaving the planet "a little better than we found it," he says.
"That's part of my driving philosophy, Alan says. "Let's create something we can be proud of for our children, our children's children and future generations."
At our six-hectare Paengaroa headquarters, just down the road from where Claude and Alan originally began their business, Comvita has planted more than 40,000 bee-friendly native trees.
"We're creating a little Eden here," Alan says. "Certainly leaving it better than we found it."
How the past builds the future
Claude Stratford lived until two weeks shy of his 103rd birthday, having worked through his 90s. He and Alan's original philosophy to better people's lives through healthy products is alive and well in all that Comvita does.
"We like to think we're making a difference every day in people's lives," Alan says. "