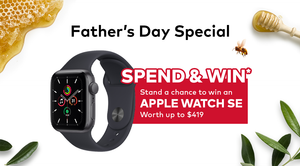 Stand A Chance To Win Amazing Prizes With Comvita This Father's Day
Dad – Always there for every adventure and the special friend we can always rely on!
This Father's Day, we are having a Spend & Win contest at Comvita with amazing prices for you to take home!
GRAND PRIZE
Apple Watch SE - Space Grey Worth up to $419
1 Grand Prize Winner
CONSOLATION PRIZE
$20 FairPrice E-Vouchers
50 Consolation Prize Winners
In conjunction of Father's Day Spend & Win Contest, we are having a SALE too!
Give the gift of health, something precious from our nature, the Comvita UMF™ Manuka Honey, this Father's Day.​
Wait no more! Surprise Dad with Immunity-Boosting Gifts!
TERMS & CONDITIONS
This Contest is organized by Comvita Singapore.

All persons registering or taking part in this Contest (the "Participants") agree to be bound by these Contest Terms and Conditions.

The Contest is open to all individual Singapore residents.

By participating in the Contest, each Participant represents and warrants that he/she has met the eligibility criteria stated in these Contest Terms and Conditions.

The Contest is valid from 13 June 2022, 00:00 hrs to 19 June 2022 23:59 hrs (both dates inclusive, the "Contest Period").
Limited to 1 chance per receipt or online order confirmation with a minimum purchase of $60 nett on Comvita products.
Limited to purchases made during the period of 13 - 19 June 2022 at the following channels: VitaKids Paragon #05-31 | VitaKids Forum The Shopping Mall #B1-26 | VitaKids United Square #B1-21 | VitaKids Tampines 1 #03-22 | VitaKids Compass One #03-15 | VitaKids Parkway Parade #B1-53 | VitaKids Marina Square #03-152 | VitaKids Westgate #04-28 | comvita.com.sg.

Only entries considered complete and correct by Comvita Singapore will be eligible. Incomplete or illegible entries will be disqualified.

Winners of the Contest will be contacted by their WhatsApp number submitted for entry.

Comvita may, at its sole discretion, modify the Contest Terms and Conditions, make prize substitutions or cancel this Contest, without prior notice to any person. Comvita's decisions on all matters relating to this Contest will be final, binding and conclusive on all Participants, and no correspondence will be entertained.

Where prizes contain a specified validity period during which it should be utilized, no requests for extensions or replacements whatsoever will be entertained. Prizes that remain unclaimed by any winner for 1 month after the announcement of the winners shall be conclusively forfeited by such winner, and the forfeited prize will be dealt with at Comvita's discretion in accordance with applicable laws.

Any information, personal data and material about or obtained from the Participant may be accessed, stored or otherwise processed in any medium or format determined by Comvita, and may be transmitted across national borders for storage and/or processing in accordance with the PDPA. If a Participant requires access to his/her personal data or any amendment or correction to be made or wishes to withdraw consent to any specific use of his/her personal data, he/she should contact the relevant Comvita officer at hello.sg@comvitasea.com.
To find out more about how Comvita uses a Participant's personal data, the Participant can refer to Comvita Singapore's Privacy Policy online at https://comvita.com.sg/policies/privacy-policy.

Other Terms & Conditions may apply.