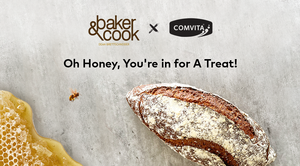 Buzzing Our Way Into Your Meals
This month, we have paired up with Baker & Cook and Plank Sourdough Pizza, putting together a series of specials for you to enjoy Comvita Honeys in different ways!
Find out which Comvita Honeys are featured in this exclusive flavour-packed menu!​
BAKER & COOK
Honey & Buckwheat Sourdough
Handcrafted using a 35-year-old starter - Little Johnny, with buckwheat flour and malt flour, sprinkled with roasted buckwheat groats and not forgetting
Comvita's Multifloral Honey
, a natural sweetener coating the crusty exterior with floral notes! This loaf is packed with several health benefits - Highly nutritious, with antioxidant properties, promotes heart health and more!
Ricotta, Pear, Manuka Honey & Hazelnut on Sourdough*
This stunning beauty might surprise you with its multilayered flavours like it did to us during our tasting session! Starting with a spread of smooth and creamy ricotta, thinly sliced pears, crunchy hazelnuts and pomegranate seeds - all of which are delicately placed on two slices of toasted sourdough. It's not complete without a hint of balsamic glaze and a drizzle of
Comvita's Manuka Blend Honey
!
PLANK SOURDOUGH PIZZA
Pizza of the Month: Honey, Blue Cheese & Walnut Pizza
Starting with a layer of silky béchamel sauce smeared onto the sourdough pizza base, followed by mozzarella and blue cheese. After baking the pizza base, a handful of walnuts and baby spinach with a generous swirl of
Comvita's Multifloral Honey
are added to complete this special. The combination of sweet and salty on this special is truly delightful! 
BEE aware that these delights are valid till 31 July only! Try these specials at Baker & Cook as well as Plank Sourdough Pizza and don't forget to make your reservations at the latter!
*Available till 3pm daily at all Baker & Cook stores except Dempsey, Holiday Inn Express Clarke Quay and InterContinental Bugis.
Other Terms and Conditions Apply.