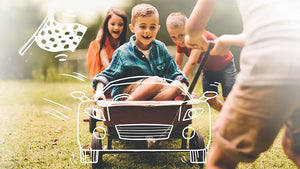 Why Is Calcium Important For Maintaining Good Health?
Calcium is an important nutrient that helps support the development of teeth and bones in children. In adulthood, calcium plays an important role in maintaining normal teeth and bone health, as well as supporting nerve and muscle function.
New Manuka Honey Milk Chews from Comvita
Back in 1974, our founders Claude and Alan believed in the power of nature. They carefully harvested every drop of their precious Manuka honey, working in harmony with nature's system to develop a range of health products from the hive.
Today Comvita continues that vision by researching and selecting sources of natural ingredients from the land, sea and hive, carefully tending and harvesting them to preserve their purity.
Understanding the importance of calcium for maintaining good health, Comvita has launched a range of delicious Milk Chews  made with the goodness of New Zealand Milk Powder, Manuka Honey and with added Calcium.  Available in three popular flavours (Original Manuka Honey, Strawberry and Vanilla), these delicious milk chews provide an easy way to top-up daily calcium intake.  Just 4 chews a day provides 14% of RDI for calcium (in New Zealand, the Recommended Daily Intake (RDI) of calcium is 800mg per day for everyone three years and over).  These round crunchy chews are perfect for lunchboxes, an after-school snack or an on-the-go treat for children 3 years or older, teenagers and adults too.