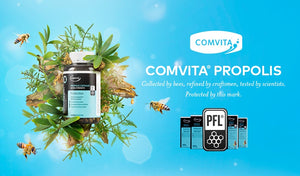 What Is Propolis?
History Of Propolis
Ancient Greek and Egyptian civilisations were among the first to discover Propolis and recognise its use as a natural health and wellbeing product.
The name Propolis derived from the Ancient Greek words "προ" pro (meaning "in defence of") and "πόλις" polis ("city")." in acknowledgement of it being used by bees as a natural protective agent at the entrance of the hive.


Comvita® Propolis
At Comvita, our history of harvesting and refining Propolis stretches right back to the early days of our company. In 1976 our founders Claude Stratford and Alan Bougen were among the first of the modern era to pioneer the careful harvesting of raw Propolis from beehives. Experimenting with the substance, they developed a proprietary technique for extracting and purifying Propolis and its beneficial compounds.
By 1978, Comvita Propolis has been used in a comprehensive range of Propolis products including a tincture, toothpaste, lozenges and capsules that were available only in New Zealand health food stores. Today, our Propolis is used in products available all over the world in throat sprays, toothpastes, capsules, tablets and elixirs.
As leaders in this field, we have worked with some of the most respected scientists and institutions to understand our Propolis and have developed a comprehensive quality assessment that ensures the integrity of our Propolis.


PFL® (PROPOLIS FLAVONOID LEVEL)
Comvita has a long history as a pioneer in the use of Propolis in health products.
To better understand the incredible properties of Propolis, we worked closely with scientists and researchers at the Cawthron Institute, one of New Zealand's largest, independent science organisations. Together, we developed advanced analytical techniques which enable us to analyse, explore and quantify the bioactive compounds, especially the phenolic and flavonoids, found in this remarkable natural substance.
The work done by the Cawthron Institute and our own scientists has resulted in an advanced analytical method to quantify the specific flavonoid compounds that characterise our Propolis. It provides greater assurance to consumers of the quality of the Propolis they are purchasing. Today, the Comvita® PFL mark guarantees the presence of specific flavonoids at a standardised concentration in every serve(1) of Propolis.


PROPOLIS FLAVONOIDS
Flavonoids are plant-derived bioactive compounds that are important colour pigments found in fruit, vegetables and various botanical sources.
Bees collect resins, secretions from botanical sources, that contain flavonoids and refine these secretions by mixing them with saliva, enzymes and beeswax to form raw Propolis. The flavonoids in Propolis are recognised as the active ingredients that confer health benefits. They are recognised to have anti-microbial, anti-inflammatory, immunomodulatory and antioxidant properties.


ALL-ROUND IMMUNITY
Traditional evidence has shown that Propolis can help support the body's natural immune system. Propolis is therefore being recognised to be beneficial against winter ills and chills.


ANTIOXIDANT
Scientific research has shown Propolis to be a strong antioxidant, similar to vitamin C. Antioxidants are important bioactive substances, they work to prevent the damage caused to cells by free radicals. Free radicals are caused by normal metabolic processes in the human body, exposure to X-rays, UV, ozone, cigarette smoking, air pollutants and other toxins. Antioxidants, such as Propolis, work by reducing oxidative stress which is a physiological state arising from an imbalance between free radical production and antioxidant defences.


ORAL HYGIENE
When used as part of an oral hygiene programme, it has demonstrated potential positive benefits to oral health and supporting gum health.
(1) Recommended serve/dose may vary on each product. Please refer to product packaging for details.