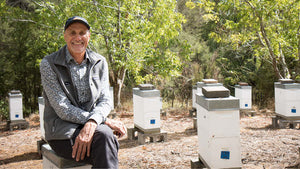 The Story Of Claude's Tree And Comvita's Queen Bees
Claude's tree stands proud in the Northern Region of New Zealand. It marks the location of one of Claude Stratford's apiaries. Way back in the days before Comvita was even thought about and seemingly, only Claude could imagine that there might be something special about Manuka honey.
In 1961 Claude and his wife Freda relocated from Otorohanga to Taipa in the far North of New Zealand. - it was the start of another new chapter in Claude's long and varied career involving bees, hives and natural health products.
Claude's book "100 Years of Claude Stratford by Basil Avery" provides a glimpse into their life in Taipa. His grandson Andrew describes childhood summer holidays with Freda in the kitchen churning butter with cream from their cows and visiting the beehive site with his Grandad Claude.
"Up there we were getting Manuka honey in the main" explained Claude in his book. But it wasn't good news back in those days; he went on to say, "At one stage when I sent my manuka honey to the Honey Marketing Board, they sent it back. They reckoned they couldn't sell it."
It's hard to believe that Manuka honey was New Zealand's least desirable honey in the 1960's. This was before science and research identified those special unique properties that we value and cherish today. Back in the 60's, Manuka honey was renowned as being difficult to extract from the combs, due to the gel like composition of the honey. The best that Claude could achieve was around 50 percent extraction using basic hand operated extraction methods – the only methods available to him at the time.
This extraordinary and beautiful location has now been brought back into the fold. Alan Bougen, co-founder of Comvita, visited Taipa recently to celebrate the opening of Comvita's new Queen Bee Breeding facility. Just like Claude's tree, Comvita's roots stretch way back.
WORKING ON THE HIVES, DOING WHAT HE DID BEST
Standing beside the large pine tree, on what was Claude's most prized apiary site in the 1960's, Alan reflects, "I can easily imagine Claude here on a fine spring morning, working quietly and systematically on his hives preparing them for the coming honey flow."
NEXT CHAPTER – PAENGAROA
Claude and Freda lived in Taipa for 9 years, gradually building the apiary up to 400 hives. In 1974 Claude sold most of them and prepared to move South to the Bay of Plenty region. But before leaving, Claude prepared 11 Nucleus hives (4 frames complete with some honey stores, and a young queen bee) to take with him, to begin again.
He and Freda arrived in Paengaroa near Tauranga on Anzac Day in 1974 for new adventures. This move eventually led Claude to cross paths with Alan Bougen, and together they set out on their mission - to create a company providing top quality, healthy products that are as close to their natural state as possible, to benefit people's' lives. It's a mission that still drives Comvita today.
QUEEN BEES – THE HEART OF COMVITA'S APIARY OPERATION
Daykel Apiaries was established in 1984 by David Yanke and Rachel Kearney. They settled in the Far North, building their home and business on the site of the old Paranui schoolhouse, they located some of their beehives on the very same site, close to Claude's tree.
Since then David, with his passion for bee breeding, has spent the past 35 years striving to improve the commercial bee stocks of New Zealand. David remembers Claude visiting from time to time. They shared a mutual respect as bee enthusiasts and experienced beekeepers
"Claude was a well know beekeeping personality in the Far North back when we set up our business. We subsequently got to know and respect each other when Claude visited from time to time. During those visits we shared many wonderful moments together where Claude recounted his former days producing Manuka Honey here in the Far North along with many technical topics centred around improving honeybee genetics."
Comvita acquired Daykel Apiaries in 2018, bringing a world class Queen Bee Breeding operation into the Comvita fold and in so doing, linking a precious part of Comvita's ancient history back to the company. David continues to operate the business as usual producing his high quality queen bees for Comvita's large beekeeping operation. "we are very fortunate to now be working closely with David and using his great queen bees throughout our entire operation" says Alan. "This development means stronger, healthier Comvita hives and a more robust supply of high grade Manuka honey for our customers worldwide".
HOW THE PAST BUILDS THE FUTURE
Claude Stratford lived to within two weeks of his 103rd birthday, having worked right up through his 90s. He and Alan's original philosophy to better people's lives through healthy products is alive and well in all that Comvita does.
Read more about Comvita's heritage story.