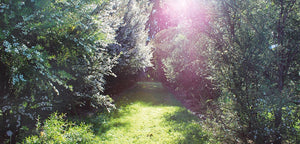 Planting Marginal Land
Comvita has been working for some time, on partnerships with New Zealand landowners, including Iwi, to plant marginal land areas with Manuka trees.

Manuka plantings are a best land for these areas and provides land owners with additional revenue from honey and pollination.  Comvita has a strong plan, developed partnerships, a dedicated team, active engagement with landowners and the purchase of their own land for planting.

The development of Manuka nurseries, planting of Manuka and the future beekeeping operations in these areas not only restore marginal land, the activities also create work in local communities.  The Comvita Manuka Planting Programme while helping to restore marginal land, also helps to clean up waterways through riparian plantings and regenerate soil from erosion.  Manuka sequesters carbon at the rate of eight tonnes per hectare within a plantation.

Manuka is regarded as a pioneer native, it is known as a nursery plant for regenerating native forest, which is a long term goal of the programme.  Working on the Manuka Planting Programme since 2004, Comvita has a commitment to plant 11,500 hectares by 2021 and is now a member of Trees That Count.

We are proud of the continuing progress that has:
1,000 hectares of Manuka already planted
800,000 seedlings currently being planted in the North Island over winter 2016.
Carbon is sequestered at the rate of eight tonnes per hectare within a Manuka plantation.
Manuka plantings are restoring soil eroded and marginal land.
Manuka plantings are cleaning up waterways.
Work created in local communities: nurseries, field plantings, crop protection, crop maintenance, beekeeping, apiary harvest and management.
Comvita has invested in this programme and they are working hard to achieve their goal of 11,500 hectares by 2021.
This programme not only helps Comvita secure honey supply, it also provides a positive environmental impact and they are committed to its success.