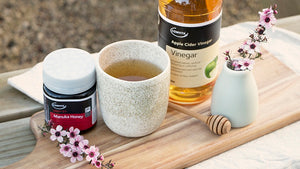 Manuka Honey Nighttime Ritual Tea Recipe
For the perfect, relaxing end to your day, try this nighttime ritual tea. Made with your favourite caffeine-free tea, Manuka Honey, and apple cider vinegar.
Ingredients:
Favourite herbal, non-caffeinated tea
Directions:
Combine all ingredients into a mug while water is boiling.
Add hot water.
Relax, meditate, and get settled in for the night.