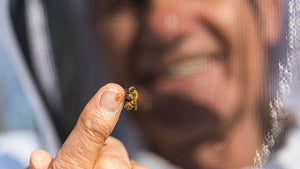 Caring For The Land And The Bees: The Comvita Stewardship Story
What makes a perfect batch of honey? The quality of our bees, the condition of our hives and the pristine natural landscape in which we work certainly help, but it goes deeper than that for us at Comvita.
The perfect batch of honey starts with a connection to the land, a genuine concern for the wellbeing of our bees and an appreciation for the cycles of nature that allow us to harvest its nutritious, beneficial gifts.
Caring for the land
It's a founding principle of Comvita to leave this Earth a little better than we found it. Since our founding in 1974, we have always aimed to enhance the ecosystem in New Zealand.
On our Paengaroa site alone, we have planted more than 40,000 native trees. We have also planted more than 2 million manuka seedlings in remote parts of New Zealand that form an important part of our medical grade Manuka honey programme. We also practice eco-restoration in areas where we can.
Comvita is now one of the worlds' largest beekeeping businesses, caring for bees and hives, and employing its own force of beekeepers around New Zealand. Through this, we are able to maintain full control of the quality of our product from its source.
Our Beehive Management System, the most advanced in New Zealand, allows us to keep track of all of our 35,000+ hives around the country. Each hive has a unique barcode identification. During their frequent visits to the hives, our beekeepers scan the barcodes and record information about the health and productivity of the hive, the surrounding landscape and more. This information is later transferred to a database which helps us track our honey as it moves from the hive through to our customer community around the world.
Caring for the bees
Our founder Claude Stratford had a seemingly innate understanding of the unique nature of bees. It was this quality that co-founder Alan Bougen first noticed about him. It's this gentle approach to beekeeping that we still practice today – whether checking hives in the warm Northland hillsides or harvesting honey in the dense bushland of the Hawkes Bay.
There are no sharp sudden movements when Comvita beekeepers are at work – there's no banging of boxes as they're loaded onto the truck, or abrupt, sudden movements. Our beekeepers' mindful, deliberate actions keep the bees in a calm state. That, and the use of our hive smokers.
Our beekeepers light a bit of burlap sack to fuel their smokers, which they use continually throughout each hive check and honey harvest to the bees. It leads to happier bees with less disruption to their natural cycles.
Light colours – both in our beekeepers' clothing and on our hive boxes – also keep the bees content.
Comvita's wooden hive boxes are painted varying pastel shades, something which appeals to the bees' incredible sense of sight and helps them navigate to find their homes more easily. Light colours, gentle movements and minimal noise – "it's all part of the art of beekeeping," Alan says.
Caring for you
When Alan and Claude were first processing products like honey, pollen and propolis, it was their passion to keep the products as close to their natural state as possible. That meant minimal processing, so customers like you could truly benefit from the goodness of nature.
While we're no longer spinning honey out of its combs by hand, our expert, minimal processing at our extraction facilities still aims to preserve the purity of the source above all else.
Pure, natural and sourced with the highest respect for the environment from which it came – this is the Comvita way.