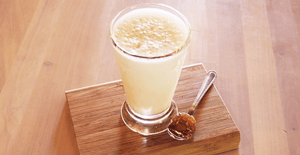 Bee Pollen Recipes
Bee Pollen in its purest form is known as a source of protein, B-vitamins and iron.
Nature's food from the hive to you! Each suggested 20g serving contains: 5.3g Protein, 2.0mg Iron, 2.0 mg Vitamin B3, 0.2g Vitamin B2 and 0.2g Vitamin B1.
Every granule pure, untainted and bursting with vitality.
Busy Bee Smoothie

Ingredients:
Directions:
Pop the ingredients into a blender for a quick and delicious smoothie – perfect for busy bees!
Fruit Buzz Bowl

Ingredients:
Directions:
Mix 1 cup of Comvita® UMF® 5+ Manuka Honey and 1 teaspoon vanilla extract. Drizzle over fruit salad and sprinkle with Comvita® Bee Pollen granules.