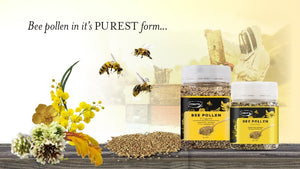 Bee Pollen In Its Purest Form
Collected by honey bees from remote and pristine areas of New Zealand Bee Pollen with its natural goodness preserved by our careful harvesting and drying process. A source of protein, essential vitamins, and minerals.

EACH SUGGESTED 20g SERVING CONTAINS: 5.3g Protein, 2.0mg Iron, 2.0 mg Vitamin B3, 0.2g Vitamin B2, 0.2g Vitamin B1.


Every granule is unique as it comes from a vast array of flower types. This is why there is a variety of different colours of bee pollen in every bottle. Our beekeepers delicately collect the excess pollen granules, which are then carefully dried and handled to protect the nutritional qualities.
Bee Pollen is packed and sealed fresh, to ensure there is no damage to the granules or oxidation of the nutrients.