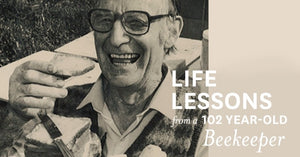 A Beekeeper's Guide To A Long & Happy Life
This is Claude Stratford, Comvita co-founder and true wellness pioneer. Claude's love for beekeeping started in 1922, when he dropped out of school to start his own beekeeping business in Richmond, New Zealand. For 50 years, he tended to his hives, sold his honey and counseled people on how to apply the healing power of nature. It wasn't until he was 63, when he met a 20-something Alan Bougen, that he took his love and expertise of the craft to the world, co-founding Comvita.
When he was 102, Claude put together his top 10 tips for living a long, healthy and happy life. These tips remain our guidepost today, but can also help you reveal your best and truest self:
Take one tablespoon of bee pollen every day – Claude had been doing this since he was 26.
Take one teaspoon of Comvita Manuka Honey, a dose of Comvita Olive Leaf Extract (15 ml), two omega 3 fish oil capsules and a multivitamin tablet – every day.
Have dogged determination and persistence in everything you do. If at first you don't succeed, then try, try, try again.
The strongest motivator is a drive to helping others – this was Claude's primary reason for starting Comvita.
Keep an unswerving belief in the power of nature to provide a source of healing.
Dream big dreams and treat any setbacks as challenges to overcome.
Accept all people as they are, and believe the best of them.
Be generous. In all ways.
Take care of your spiritual well-being with daily faith and prayer.
Read widely, keep up with the latest information about your interests, and have an open mind.