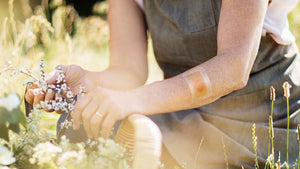 The Medihoney® Difference
The core ingredient in our Medihoney Wound Care range is medical grade Manuka honey. As world leaders in Manuka honey we make it our mission to advance new ways in which the unique properties of Manuka honey can be applied.

The unique properties of medical grade Manuka honey have been extensively researched in over 90 clinical papers and case studies.

The medical grade Manuka honey properties work together to provide an ideal wound healing environment.

Medihoney® Wound Care
Medical grade Manuka Honey Wound Gel and Adhesive Dressings support the healing of skin and wound infections in the following ways:
Heals – Encourages wound healing and reduced scarring
Cleans – Naturally cleans the wound of dirt and bacteria
Protects – Reduces the risk of infection
Where does Medihoney® Antibacterial Medical-Grade Manuka Honey come from?
Medihoney® Antibacterial medical-grade Manuka Honey is sourced from New Zealand hives. The honey is tested for key properties and then transported to Comvita's purpose built, state of the art facility for processing. Once filtered to medical grade standards, the honey is then manufactured to ensure the finished product meets medical device standards.
Comvita has developed a world-leading medical Manuka honey supply and extraction methodology into a system that has helped redefine honey industry standards. This honey is also used in advanced wound care products for hospitals.

Can I use Manuka Honey in a jar on my wound?
No, Manuka Honey that is purchased in a jar is for edible purposes only. Wounds, cuts and scratches or broken skin should only be treated with sterilised honey. Therefore, Comvita recommends using sterile Medihoney products such as Wound Gel or Adhesive Dressings infused with antibacterial medical grade manuka honey for such conditions. Medihoney Wound Care products are CE mark certified to European medical device standard 93/42/EEC and are the first honey-based products cleared for medical use by the US FDA.

Is Medical-Grade Manuka Honey the best honey to use for wound care?
Comvita is committed to researching the best honey for different applications or stages of wound healing. Our Medical Grade Manuka Honey has been selected because it contains high levels of Methylglyoxal, which has been shown to offer effective antibacterial protection, and it has undergone extensive laboratory and clinical testing. To ensure we manufacture highly efficacious products, Comvita will continue to re-evaluate the honey type and content of our products as we understand more about the therapeutic action of honeys.

Are Comvita Wound Care products sterile?
Yes. Both Medihoney Wound Gel and Adhesive Dressings are sterile products.
Medihoney® Adhesive Dressings are available in two sizes, 2.6cm x 5.6cm and 4.5cm x 7.5cm.