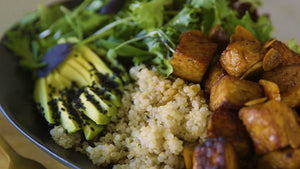 Teriyaki Tempeh Salad Bowls
If you love teriyaki, you're going to really enjoy this dish. It's a healthier but equally delicious wholefoods take on a typical Japanese takeaway.
INGREDIENTS
1 packet of organic tempeh (250g)
¼ cup tamari
3 tablespoons of sake
3 tablespoons of mirin
¼ cup of water
2 teaspoons of fresh ginger juice (make your own by grating the ginger and squeezing the juice out by hand)
2 cloves of garlic crushed and finely minced or chopped
1½ tablespoons of arrowroot or tapioca starch
½ teaspoon of Comvita™ Manuka Blend honey.
Sesame oil (for cooking)
Optional: 3 drops of liquid smoke
GARNISH
Nori sheets torn into small pieces
¼ cup of sesame seeds
1 spring onion, finely sliced 
Optional: ¼ teaspoon of chilli flakes
METHOD
Remove the tempeh from the packet and place in steamer basket or pot of boiling water for around 10 minutes. Then set aside.
Place the tamari, sake, mirin, water, ginger juice, garlic (and liquid smoke if using) in a small pot. Bring to the boil then reduce to a simmer for around 8 minutes.
Remove ¼ cup of the mixture and place in a small bowl. Whisk in the arrowroot or tapioca and return to the pot and stir until the sauce starts to thicken and become glossy.
Once it's thick and glossy remove from the heat and stir in the honey, set aside.
Cut the tempeh into wedges by first cutting it horizontally into two large squares and then chopping it into 4 triangles. You should end up with 8 triangular pieces.
Heat a large fry pan to a medium-high heat, add a few tablespoons of sesame oil and cook the tempeh for 2-3 minutes or until brown. Flip and cook for another 2-3 minutes until golden brown on both sides.
Add half the teriyaki sauce to the pan and cook for another minute, then set aside while you prepare the garnish.
Lightly toast the sesame seeds, chilli flakes and nori pieces in a small pan over a medium heat for around 2-3 minutes.
Place the tempeh and the sauce on a plate and top with the garnish. Serve the remaining teriyaki sauce on the side.