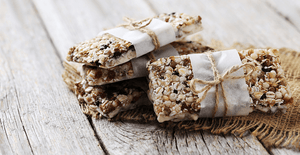 Tasty Travel Snacks
A delicious recipe for granola bars; the perfect snack to take on long (or short) journeys! Make your own snacks to ensure the freshest and tastiest ingredients.
Serves 10
Ingredients
300g UMF5+ Manuka honey
3 tablespoons peanut butter or alternative nut butter
Pinch salt
Pinch cinnamon
2 handfuls of nuts (Almonds and Pecans work well)
1 handful raisins or dried cranberries
2 table spoons of shredded coconut


Instructions
Line a baking tray with parchment paper.
Gently warm the honey in a saucepan on a low heat. While the honey melts, spoon the peanut butter into a bowl. Add the salt and cinnamon. Pour the nuts into the blender and blend until it looks like very coarse flour, this does not need to be perfectly ground – chunky pieces of nut are fine. Add these to the bowl with the peanut butter, salt, and cinnamon.
Add in the dried fruit, coconut and then drizzle in the honey. Stir/mix until fully combined.
Spoon onto your baking tray and ensure you press very firmly into the prepared pan. The harder you press the mixture into the pan, the more likely that you granola bars will stick together well.
Cook for 25 minutes at 150 degrees Celsius until golden brown. At first these will be very soft when you take them out of the oven, but will firm up later once cooled. Before cutting into squares, once they are cool, ensure that you refrigerate for an hour first.
You can customise this recipe by adding some of your favourite ingredients. Oats and seeds work well, as does mixing a small amount of yoghurt with honey for a delicious coating.  Experiment and let us know your ideas!