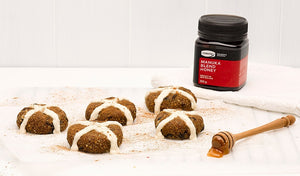 Paleo Hot Cross Buns
Gluten free, paleo, dairy free, vegetarian.
These snack size buns are a moist healthy alternative to traditional hot cross buns. They are not overly sweet so feel free to add more honey if you wish.
BUNS:
1 cup almonds
1 cup buckwheat groats
2 tablespoon

 

manuka honey
1 cup dates
½ cup raisins
1 teaspoon vanilla extract
½ teaspoon cinnamon powder
½ teaspoon ginger powder
Water, as needed (approx. ½ cup)


DRIZZLE:
½ cup cashews
1 teaspoon manuka honey
2 tablespoons coconut oil
Juice from ½ lemon
½ teaspoon vanilla extract
Water, as needed ( approx. 4 teaspoon)


METHOD:
Preheat the oven to 180°C.
Line an oven tray with baking paper.
To make the buns: put the almonds and buckwheat in a food processor and process until they become a like flour. Add the rest of the ingredients – except the raisins – and add water as needed until it all begins to stick together. Add the raisins in by hand and mix well and mould into balls and flatten with the back of a spoon to make bun shapes. Cut a cross into the top of each one.
Tip: if the mixture is too sticky to roll, put a little coconut oil on your hands to prevent it sticking.
Bake in the oven for 20 minutes until lightly browned. Allow to cool on a rack.
To make the frosting: blend all the ingredients until smooth, adding water as needed to get the desired consistency. Once buns have cooled drizzle on crosses and enjoy!  I sprinkled mine with more cinnamon.