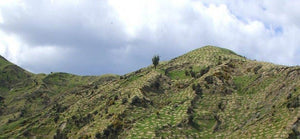 Lake Tutira Manuka Plantation Partnership
For more than 10 years Comvita has undertaken Manuka plant breeding and research programmes, and we currently manage over 1,000 hectares of high performance Manuka trials.
One of our large-scale trials sites, run in partnership with Hawke's Bay Regional Council, is at Lake Tutira. The majority of the plantings at this site are in their third year, and we expect the crops will return their first yield this coming season (2016 – 17).
View the video below to see the Manuka plantation programme in action, for erosion prone or under-utilised land.


Hawkes Bay Regional Council and Comvita Manuka Trial – Lake Tutira
Lake Tutira Regional Park – 136 hectares
Objective: To test Manuka plantations as a viable alternative land use to beef and sheep grazing, on marginal farm land.
Problem: Large area of steep, erosion prone land where soil and nutrients are washed down into the lake during heavy rainfall. Sediment and Hydrilla is an ongoing issue for the lake.
September 2011 – a trial six hectares was planted, with three Plant Variety Rights:
CVT2 1000 – suitable for hill country
CVT3 4000 – suitable for hard sites
CVT4 1000 – suitable for wetter sites
2012/2013 – Operational planting across the Park.


Environmental benefits:
Water quality improvements
Reduction in nutrient flow into streams and waterways
Erosion reduction
Carbon credits
Supporting bees and the local ecosystem.