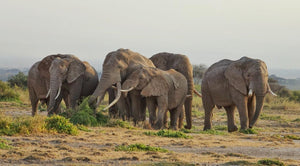 Helping restore the Kimana Wildlife Corridor through the power of bees.
At Comvita, one of our core values is guardianship and we believe in working in harmony with bees and nature to help protect the land. Our partnership with Saving the Wild is part of our Harmony Plan. Our latest mission, the Saving the Wild Beekeeping Project, is about helping restore and strengthen the delicate balance between humans and nature, whilst generating positive social outcomes in our global communities. And we are starting in the Kimana Wildlife Corridor.
Set between the 1.6 million acres in the Amboseli-Tsavo-Kilimanjaro ecosystem, the Kimana Wildlife Corridor is a critical wildlife dispersal area and is the only remaining way for wildlife to access the wider ecosystem to the east.
The Saving the Wild Beekeeping Project has been created to help protect the corridor and stop any further habitat loss from occurring. Over 200 hives (and counting) have been placed within the corridor and the bees are doing what they do best – pollinating the land and helping create a more robust ecosystem.
While the bees are doing their job, the local Maasai community who also live within the corridor are learning how to care for the bees and their hives.
Beekeeping has given them financial stability and independence with profits from the harvest going directly back into the community. Educational scholarship funds have been set up to help Maasai children have the opportunity to go to school, with 70% directed at young women.
The project gives the Maasai community the opportunity to work with their land and make it more profitable, rather than having to sell or lease it to commercial farmers. There are plans for more hives to be placed in the corridor, helping to further build harmony between wildlife and people.
In celebration of our hardworking little pollinators, we are having a sale this World Bee Day!