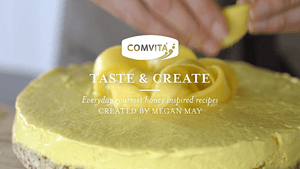 Golden Mango Cake
Looking for a dessert with wow-factor? Whether cooking for a crowd, celebrating a special occasion or just feeling a bit fancy, there's no better cake to fit the bill than this beautiful Golden Mango Cake.
Completely gluten and dairy free, it has the crunchy base and creamy, zesty filling you'd expect from a cheesecake.
Make this one to really impress your guests!
INGREDIENTS
Base:
1 cup dates
1 cup brazil nuts
½ cup dried coconut
1 teaspoon dried ginger powder
Pinch of salt
Filling:
2 medium ripe mangoes, chopped
½ fresh ripe pineapple, chopped
⅓ to ½ cup of Comvita™ Multiflora Honey
2 mandarins, peeled
¼ cup of coconut yoghurt
Juice of 2 lemons
Juice of 1 lime
2cm piece of fresh, peeled turmeric or ¼ teaspoon of dried turmeric
Pinch salt
½ teaspoon vanilla extract
2 teaspoons of agar agar powder
1 cup coconut oil (melted)
Topping:
1 to 2 ripe mangoes
1 to 2 passionfruit
1 teaspoon Comvita™ Multiflora Honey
METHOD
In a food processor or wide based blender, blend the dates into small pieces. Then add the remaining base ingredients and pulse into a coarse mixture that is slightly sticky, keeping some texture in it.
Line a cake tin with plastic wrap and firmly press the base into the tin evenly. You can put the base in the fridge while doing the next step.
In a high-speed blender, blend all the ingredients except the coconut oil, for at least one minute, or until completely smooth and slightly warm (it needs to warm up to activate the agar agar powder). Then with the blender running, pour in the coconut oil and continue to blend until fully incorporated. At this point it is very important to taste, as this cake uses mostly whole fresh fruits so flavours will vary. If your mangoes or pineapple aren't particularly ripe, you may want to add a little extra honey to adjust to your desired level of sweetness.
Next, pour the mango filling on top of the base, cover with plastic wrap and either put in the fridge overnight or in the freezer for 2 to 3 hours to set.
Remove from the tin, place on a serving board and smooth around the sides of the cake with a knife. Top with thin slices of fresh mango and a little mixture of passionfruit and Comvita™ Multiflora Honey.
The cake is best served straight from the fridge as it's easier to cut.
Will store for 4 to 5 days in the fridge or for a few weeks in the freezer.
Download PDF of Golden Mango Cake Recipe >



Want more of Megan's masterpieces? You'll love these recipes:
Fig & Almond Breakfast Bars
Choc-Dipped Berry Ice Cream Blocks