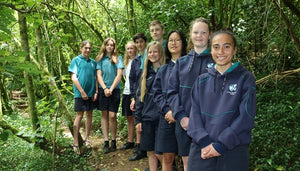 Comvita Supports Tradescantia Terminators!
A community problem solving team who're aiming to control the spread of a problematic weed in Northland, are having their efforts backed by Comvita's Kiwi Bee apiary business.
The 'Tradescantia Terminators', a group Kerikeri High School students, have set out to control Tradescantia growing along the Wairoa Stream Track by releasing beetles, through manual weeding and riparian plantings.
Comvita is the primary sponsor of the team, and will provide weed bags for the group's upcoming clean up in May, as well as 300 Manuka seedlings to be planted along the river.
Tradescantia Terminators team member, Faith Hohepa, says Tradescantia has been voted the worst weed in New Zealand three times since 2012.
"And rightly so. It's very shade tolerant and forms a large thick mat under native forest, which smothers native seedlings and prevents forest regeneration. While Tradescantia doesn't produce seeds in New Zealand, its brittle stems break off easily and small fragments can be washed down streams or carried by wildlife. It's hard to control because fragments as small as 1cm can quickly regrow into a problem," says Faith. 
As well as weeding and replanting the area with native species, the students are releasing two types of beetles as a biological control to Tradescantia. These beetles were recently introduced to New Zealand from Brazil by Landcare Research scientists.
Tradescantia Terminators team member, Jeany Kim, says it's been exciting working with real scientists. "We had a pretend Environmental Protection Court and argued our reasons for releasing the shiny beetles (Neolema ogloblini) and knobbly beetles (Lema basicostata) to Dr Dymock, a local scientist assisting the Northland Regional Council, and Mr Rod Brown, the chairman of Vision Kerikeri. The beetles are monophagous so they only eat Tradescantia. They would rather starve than eat native plants," says Jeany.
The Tradescantia Terminators hope to share their research at the 2018 National Future Problem Solving competition. In July, they will present their project findings to judges for selection into the competition.
Comvita General Manager Apiaries, Trevor Clarke, says Kiwi Bee is proud to support such a proactive group of young people, who're passionate about protecting the natural environment in which the company operates.
"It was a no brainer for us to get behind their conservation effort. We're a locally based apiary business, so naturally, preserving the environment is important to us. The kids' values also closely align to our company's. 
"In May, some of our beekeepers in Kerikeri will use their annual 'Comvita Helping Hands' volunteer leave to help the students plant Manuka along the track. We were impressed with the initiative shown by the Tradescantia Terminators' in wanting to ensure the Wairoa Track could be enjoyed for years to come," says Trevor.
The Tradescantia Terminators comprises two Year 10 and seven Year 11 students from Kerikeri High School; Charlie Potter, Charlotte Gamble, Emilia Finer, Emily Jones, Faith Hohepa, Jeany Kim, Jessica Mooney, Michael Mitchell and Wilson Hookway. They plan to complete their work along the Wairoa Stream by June.
While there has been a large community effort to remove weeds along the river since 2011, Tradescantia has been left in the too hard basket, says Kerikeri High School Science Teacher, Sandra Leaming.
"It's exciting to see the students rise to the challenge and use their problem solving skills. Authentic learning experiences such as these are invaluable, and Kerikeri High School is always looking for ways our students can use their science knowledge to work collaboratively with the wider community. I'd like to think the Wairoa Stream and its forest margin can be an extension of our classroom for many years to come thanks to the efforts of the Tradescantia Terminators and the backing of Comvita," says Sandra.