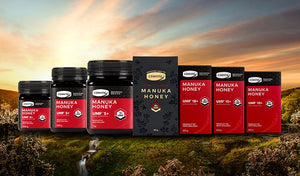 A Premium New Look, For Our Most Precious Resource
Beekeeping Heritage Since 1974
In a small town in rural New Zealand in the early 1970's, two men with a fervent belief in the healing power of nature, and a love of bees, formed a special partnership.
Beekeeper Claude Stratford, and burgeoning beekeeper Alan Bougen, established Comvita in 1974 with a mission to create quality health products as close to their natural state as possible.
They began making health products from the pure-source honey they collected in the remote New Zealand native forests that surrounded them. While honing their beekeeping craft and carefully extracting the honey with their hand-operated extractor, 'Comvita' quickly became known for quality and purity of its products, and for its ethics.
Claude and Alan's beekeeping legacy has endured and Comvita is now New Zealand's largest producer of genuine UMF™ Manuka Honey, and a globally-recognised brand.
At Comvita, we're extremely proud of our heritage and we remain true to Claude and Alan's founding values. We have developed special beekeeping, extraction and production methods to protect the unique properties of our Manuka honey. Today we pride ourselves on producing quality, authentic Manuka honey from source-to-shelf, and to continuing Claude and Alan's mission.
Rare Manuka Honey True to its Source
*The quality, purity and authenticity of our genuine Manuka Honey is independently certified by the UMF Honey Association. Read more about UMF here.
Manuka honey has higher levels of hydrogen peroxide properties compared to other types of honey. This is what makes Manuka Honey so unique.
However, the presence and concentration of hydrogen peroxide properties varies between Manuka species. Through our specialised horticultural program, we've identified high-producing Manuka cultivars in the remote regions of New Zealand. Through careful species identification and advanced beekeeping practices, we're able to produce the highest quality Manuka honey possible.
UMF™ is an established benchmark for New Zealand Manuka honey worldwide. Comvita™ Manuka Honey complies with the UMF™ standard and displays the UMF™ symbol on its packaging to guarantee the authenticity and quality of our Manuka Honey.
Premium New Packaging
We are transforming our UMF™ Manuka Honey for a new era with the introduction of new prestige packaging across the entire range. We are committed to incorporating design features that will help fight counterfeit and improve sustainability while protecting our heritage, to ensure our UMF™ Manuka Honey is enjoyed worldwide, and for generations to come.
WHAT'S NEW?
Contemporary look and feel with an embossed honeycomb finish
New official UMF™ logo
Brand booklets are included in all our boxed honey.
Comvita™ brand name embossed on the bottom of our jars
Black lids with embossed Comvita™ logo
UMF™ grade-specific induction seal protects against counterfeit and assures our consumers of food security
UMF™ 10+ will soon come in premium boxes as it's part of the high grade UMF™ Manuka honey range
Our new boxes for UMF™ 10+ and 15+ come with PEFC certification, assuring of sustainability of the source
Message from Comvita™ co-founder Alan Bougen, attesting to our credibility as pioneers of the modern Manuka honey industry
UMF™ 20+ has a special ultra-premium gift box with its own heritage booklet
WHAT'S THE SAME?
The premium quality of Manuka honey remains the same and true to the source
Embossed frond on labels and boxes
Our jars and lids remain BPA free as part of our commitment to consumer safety
Our signature brand colour, Comvita™ red, has remained the same as our consumers actively look for the iconic Comvita™ red on the shelf
Our endorsement of the UMF™ grading system, the only independent grading system of true to label New Zealand source Manuka Honey
The FernMark logo on our packs means our products are produced in New Zealand
Comvita™ logo with a new sign off "Beekeeping Since 1974"