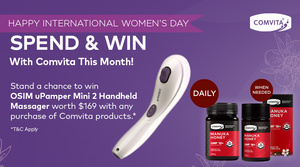 Spend And Win With Comvita This Month!
Stand a chance to win OSIM uPamper Mini 2 Handheld Massager (worth $169) this March!
In order to win this exciting prize, you need to follow these steps:
Shop now in Comvita.com.sg from 1st-31st March with spend above $200 in a single transaction. Every eligible transaction stands a chance to win the Osim Massager.
5 Winners will be drawn selected.
Winners will be announced by mid of April and winners will be contacted by contact number (WhatsApp) or email register for purchase.
Winners will receive the prize 3-4 weeks from date of announcement.
TERMS & CONDITIONS
This Contest is organized by Comvita Singapore.

All participants registering or taking part in this Contest (the "Participants") agree to be bound by these Contest Terms and Conditions.
The Contest is open to all individual Singapore residents.

By participating in the Contest, each Participant represents and warrants that he/she has met the eligibility criteria stated in these Contest Terms and Conditions. Entries are not transferable or assignable.

The Contest is valid from 01 March 2023, 00:00 hrs to 31 March 2023 23:59 hrs (both dates inclusive, the "Contest Period"). Comvita Singapore reserves the right to modify or extend the Promotion Period at its sole discretion.
Limited to 1 chance per receipt or online order confirmation with a minimum purchase of $200 nett on Comvita products on https://comvita.com.sg/
Limited to purchases made during the period of 1st -31st March 2023 on https://comvita.com.sg/
Only entries considered complete and correct by Comvita Singapore will be eligible. Incomplete or illegible entries will be disqualified.
Comvita Singapore reserves the right to disqualify any participant who does not comply with these Terms. The results will be final and Comvita Singapore will not entertain any appeals. Instructions for prize collection will be given to the winner(s) in the notification. No compensation will be due to the winner who fails to claim the prize within the stipulated time.
Comvita may, at its sole discretion, modify the Contest Terms and Conditions, make prize substitutions or cancel this Contest, without prior notice to any person. Comvita's decisions on all matters relating to this Contest will be final, binding and conclusive on all Participants, and no correspondence will be entertained.
Where prizes contain a specified validity period during which it should be utilized, no requests for extensions or replacements whatsoever will be entertained. Prizes that remain unclaimed by any winner for 1 month after the announcement of the winners shall be conclusively forfeited by such winner, and the forfeited prize will be dealt with at Comvita's discretion in accordance with applicable laws.
Any information, personal data and material about or obtained from the Participant may be accessed, stored or otherwise processed in any medium or format determined by Comvita, and may be transmitted across national borders for storage and/or processing in accordance with the PDPA. If a Participant requires access to his/her personal data or any amendment or correction to be made or wishes to withdraw consent to any specific use of his/her personal data, he/she should contact the relevant Comvita officer at hello.sg@comvitasea.com.
To find out more about how Comvita uses a Participant's personal data, the Participant can refer to Comvita Singapore's Privacy Policy online at https://comvita.com.sg/policies/privacy-policy.

Other Terms & Conditions may apply.